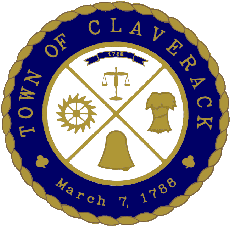 Whether you are a resident, a visitor or considering becoming either, we are glad you are here. We hope that you find this website welcoming, easy to use, and that it gives you the information you are searching for.
The Town of Claverack, incorporated in 1788, sits in the middle of beautiful Columbia County, with easy access to Albany, Boston and New York City. There are just over 6000 residents spread out over almost 50 miles of the town, which makes us the second most populated township in the county. Included in the township of Claverack is the Village of Philmont, which has its own municipal structure (www.philmont.org) and was incorporated in 1892. We are proud of our rural, academic and industrial history and cherish the small town and rural atmosphere that is fundamental to our community.
Announcements and Public Notices
The Oct/Nov 2022 issue of the Climate Smart Claverack Newsletter is available now! Read it here. If you would like to have the newsletter emailed to you, sign-up by following the link at the bottom of the newsletter -OR- by scrolling down to the bottom of any page on the CSCC website.